My Protestant Pheelings Phor Philo of Alexandria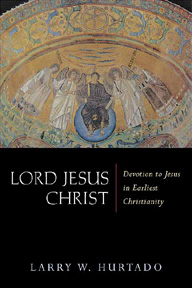 This is my third post of my current series on Larry Hurtado's LORD Jesus Christ: Devotions To Jesus In Earliest Christianity:
See my first 2:
Larry Hurtado and Historical Criticism: An Introduction of sorts
Larry Hurtado's Lord Jesus Christ: Chapter One
As we continue on with the second chapter of Hurtado's work, we move into the beginning of his argument where he wants to start with the authentic Pauline letters. Hurtado contends that these are the earliest proofs we have of Jesus devotion, that the fact remains that the Gospels were written much latter, and Paul's practices represents what Hurtado calls an early Jewish Christian set of practices and beliefs. Paul himself, according to Hurtado, has a mission to deliver a "Torah-free" Jewish Christian Gospel to the Gentiles (the Nations).  Hurtado wants to guard against the history-of-religions approach to the New Testament, the one that frames Jesus, and then his apostle Paul as scholars of Hellenistic philosophy. LH starts with Paul's letters for this very reason, as well as to put into dispute claims made by persons such as Dominic Crossan who make the mainline Historical Jesus argument that Paul was a Platonist/semi-Platonist. For example, Hurtado stresses that the early Jewish Christian belief of Jesus as God's Son has to do with the Davidic Kingship, and not at all with Jesus as some cog from Greek Philosophy. It is important to understand Paul as a faithful Jew dedicated to the Messiah, I would agree with Hurtado, but there was no  singular "purely Jewish" strain of Judaism. Hurtado knows this, that there were many Jewish parties, and understanding this is the keep. Paul himself, as his autobiographical statements suggest, was a member of the Pharisees, and so much of Paul's teachings were still consistent with Pharisaical Judaism, such as the emphasis on bodily resurrection and the Torah (to this, I will come back to later).
Hurtado uses the example of Philo of Alexandria as the "typical Jew" of early Judaism, and I just think that's just incorrect. In fact, Philo's use of a revisionist Platonism, allegorical interpretations of the Septuagint, as well as his Logos theology WERE NOT the mainstream in early Judaism. Philo was a marginal, radical thinker for his day, so the contrast between Philo and Paul utterly fails. What one can say about these contemporaries is that Paul and Philo were creative, radical intellectuals dedicated to reinventing Hebrew philosophy and that they have more in common than at first glance.
Larry Hurtado goes on to argue that one of the markers of early Jewish Christianity under the influence of Pauline Letters is the belief of the Pre-Existence of Christ. It is a central confession of these early Christians where the pre-determined purposes of creation and redemption are intertwined. Hurtado rejects Wisdom literature and Paul's use of it as a case for pre-existence, contra James Dunn. Dunn, who argues for example that the hymnology in Phillipians 2:1-11 is more about the story of Genesis with a connection to Adam-Christology. This would be perfectly suitable logic for Pauline theology scholars especially in light of Paul's letter to the Romans, but ah, Hurtado disagrees. Pre-existence in Jewish theology comes by way of apocalyptic writings in Judaism, claims LH. No specifics were given or sources cited, just a couple of essays, maybe a dissertation, but I believe what Hurtado has in mind is the Son of Man passages like in Daniel or Enochian literature.
TORAH TORAH TORAH
When one considers Hurtado's defense of Pre-existence (and being the faithful Alexandrian theologian that I am, I hold to pre-existence), I find it rather weak. It is weak because of Hurtado's dismissal of Wisdom literature, and because of Hurtado's claim that Paul is preaching a Torah-less Jewish Christian Gospel to the Gentiles. I found it not that convincing because, when one thinks about the meaning of the Messiah, Jesus as the Chosen Annointed One, we must give heavy consideration to God's election of Mary's body for YHWH's divine enfleshment. Personification and Mary's chosenness go hand in hand with Jesus' election as Messiah. No body, no Messiah; know body, know Messiah. Therefore, any notion of Christ being pre-existent without a body is wrong, for that "being" cannot be called Christ as such, since Christ cannot be without a physical fleshly sack of meat and water. This is where the innovations of Philo come into play, with the person of Wisdom. Because Hurtado doesn't get Philo, he gets Christology and Paul's mission wrong as well. Paul DOES NOT present an antinomian Good News, for without the Law, there is no Gospel. The Torah is understood in some Jewish traditions to be Wisdom, God's blueprint prior to creation. If Paul is presenting Jesus as Wisdom like in his letters to the Corinthians, then Paul is presenting the Torah, Jesus as the Law made Flesh.
Next up, I'll take a gander at chapter three on Judean Jewish Christianity.
Related articles