Howdy! As promised in my last post on Videogames as Storytelling, this post  is going to be a further examination of these intersections. In this installment, I'll be  a bit more specific.
So, last post I explained the case for videogames as a mode of narrative and story-telling and how even they can (and often do) take on white supremacist characteristics and reinforce the privileding of whiteness as "default".  Additionally, I mentioned a fancy term , "anthropomorphism" – simply the case of giving -human-like form (upright-walking,bi-pedal, two arms and a head, neck and maybe even clothing) to animals or maybe even objects. My point in the last post, that I hope to make clearer in this post, is that racist, stereotypical tropes can sometimes be "sheathed" in anthropomorphism. Exhibit A? – Sega's  Sonic the Hedgehog franchise.
(There are points during this post, that I understand may come across as silly. And perhaps there is an air of humor to some extent, but ultimately, we must realize that these are highly problematic, racist projections of racist myths.)
Everyone loves Sega's blue hedgehog who can zip through levels, through flying through loops and bouncing off of launch pads, to defeat Eggman (Dr. Robotnik) in record speeds! My main interaction with Sonic franchise was through Sega Dreamcast in playing games like Sonic Adventure and Sonic Shuffle (like Sonic's mario party). I then went on to play Sonic Adventure Battle 2 for GameCube and then Sonic Heroes – two of GC's most successful titles!
It wasn't until really paying close attention to the music (character themes) in Sonic that I really started to realize some racialized themes going on. So, while we know there's Sonic, there's also Tails ( the cheery, intelligent side-kick fox) and Knuckles (the strong, 'defender of the Master Emerald). Knuckles was always a fan favorite for his immense strength and brawny personality. But if we go with the theory that Sonic, as the main character , on some level, represents some aspect of "default whiteness", then it should come as no surprise, that Knuckles, is relegated to be the "other" rival. When compared witht he more "even-tempered", yet heroic (white)Sonic, Knuckles(who I believe is supposed to be the "black man" of the series, has many descriptions as being "heroic, yet stubborn and hot-headed"
Additionally, Knuckles, (supposedly an echidna- whatever that is) has what I guess is supposed to be its "pins" styled in a way that resemble dread-locks- I mean just look at his Rastafarian color-scheme (red, gree, and yellow!)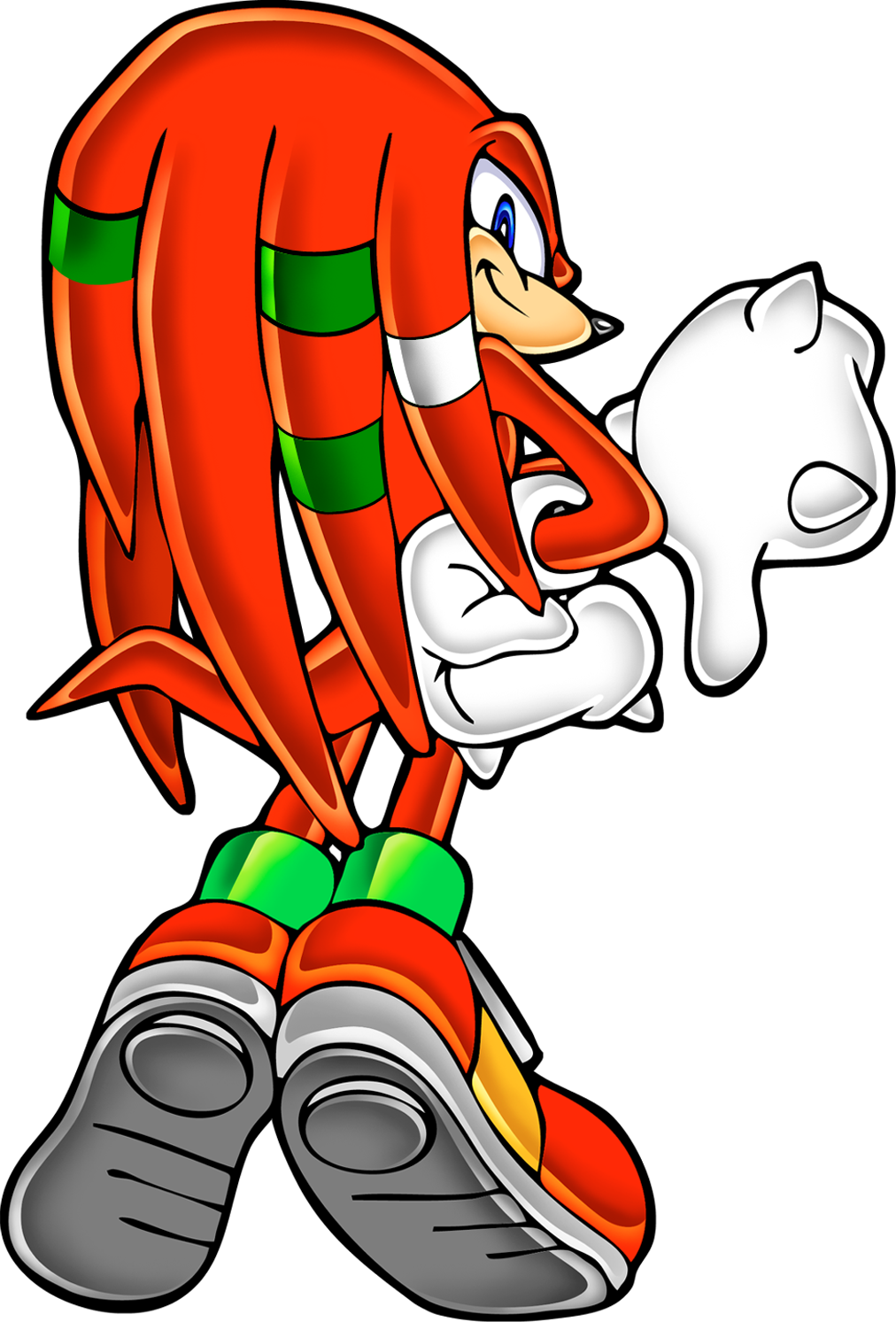 Now, one way that a character's "motif" may be rounded out is through music. One especially memorable component of Sonic Adventure that many fans will recall is that characters had a "theme"-song, music that was supposed to "fit" the character. Just take a listen at Knuckles':
It's not about how "good it sounds" or even that white guys can't participate in rap. But the fact that Knuckles ( whom I have already began to make the case is an anthropomorhpised black man) is the only character with a music score characteristic of black musical genre( originating from black musical traditions/culture) with the rapping, jazzy saxophone, harmonies,and urban beats. It is tough ot ignore that Knuckles the Echidna has a clear motif of "the brawny black man"
He actually has more themes, for the different stages where the player must play as him, and in everyone one, we hear the same rap/hip-hop jazzy themes and the "swagged-out" male voice:
You get the picture.
And, it doesn't really stop there. Meet Rouge the Bat: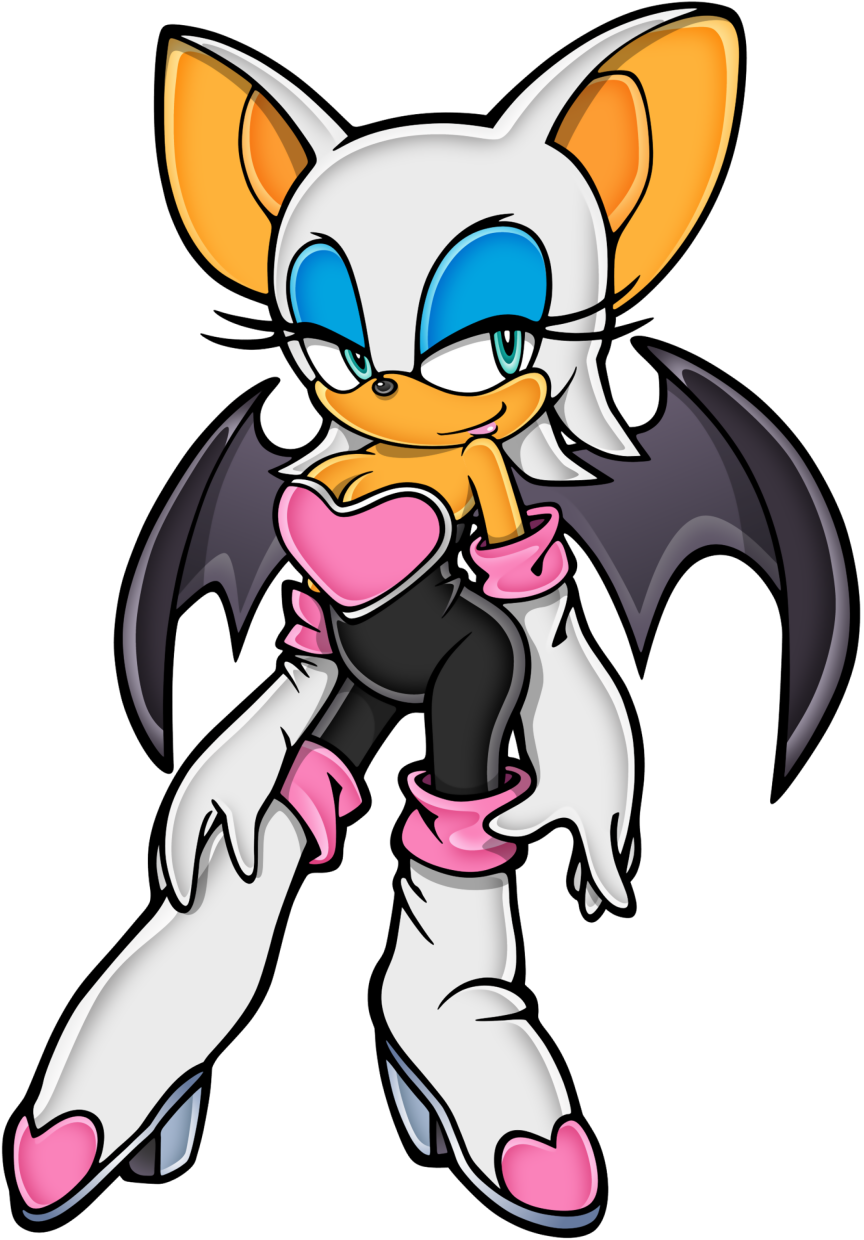 Rouge, is a morally ambiguous character who is commonly 'grouped' with the villainous antagonists like Shadow the Hedgehog ,etc. This seductress is also supposed to be Knuckle's love interest. WHat's interesting is her character is a very smooth-talking, seductive, diva-like, Jezebel – which all happen to be racist tropes versus black women. So while we have the morally questionable Jezebel Rouge, guess what the "leading lady" of the Sonic franchise is like?:
A bubbly, much-less busty Amy Rose – who appears closer to what we'd identify as an "innocent white girl". And furthermore, we have the , once again, the character theme further the motif of Rouge the Bat:
A latin, Bossa-jazz style theme typical of what you'd expect from a black/minority female. And listening to the theme's lyrics sounds like the Jezebel motif is furthered.
Until next time! 😉