Well, last time we saw how racist myths can be kept afloat in videogames, even through anthropomorphic means. This post will be different , but yet the same, in that the central issue uniting all these problematics in these virtual narratives is one that sets that which is white as "default" and admirable.
There are myriad videogames one could choose to illustrate any of this. However, I'm going to stick with my experience and what I know.  As with the last post, I mentioned playing a lot of Sonic the Hedgehog games, in this post, I'll feature a game whose narrative had a great impact on me and that I greatly enjoyed – Custom Robo!
I've always been into the battling robots  concept for as long as I can remember. Whether it was Gundam, Power Ranger's MegaZords ( they looked like robots) , Medabots (which more people need to know about!), I seemed to have always been enamored with the concept of commanding/controlling a mecha-robo to engage in futuristic combat. Perhaps I'll save what I think the significance of the mecha-robo combat is for another post…
Continuing with my interest in robot-combat fiction/games, I first played Custom Robo around Middle-School and it didn't disappoint. I loved the futuristic aesthetic in the graphics and the music and character designs, etc. The story ( which, again I may cover in another post because it has significance) was captivating and I still remember it all so vividly. But what I also remember vividly, was the main character , called 'Hero' by default, looking like this: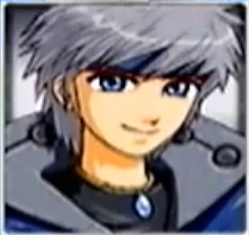 He's supposed to be the archetype of the honest-eyed, bon-homme (good-natured boy) – and he also happens to be a jolly white boy. And so being the honest, impressionable, and oft-naive bonhomme your main character is made to be, you naturally will need aside-kick, who may need to be a bit more worldy to round him out. Enter, Harry: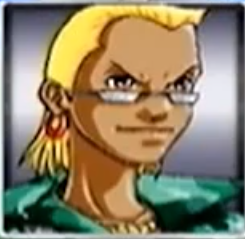 Yup. This is Harry (*sigh*..) Now we can go and deliberate all day as to what his race/ethnicity actually is because of his blond hair, but if we're honest with ourselves, we know the motif of blackness being a side-kick to whiteness- Custom Robo isn't the only place we see it.
Now, in Custom Robo, he serves as more of a guide/mentor to the hero joining the local Custom Robo mercenary squad. He's a charismatic, entertaining character to interact with,although he is portrayed as a wily, sloppy, lazy, womanizing guy. You know, like many black man side-kicks we see….
His character actually doesn't bother me as much as another one… or rather what seems to be the game's disposition towards her.. Harry's sister, Mira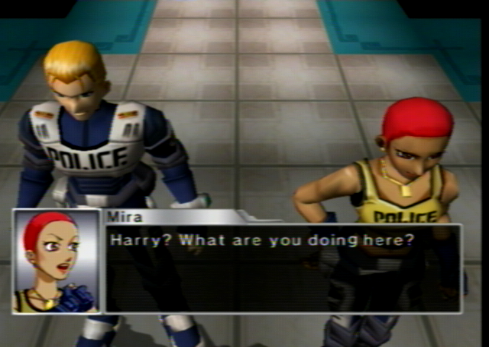 She's the head commander of the Police Squad in this game and she's a black female. And much like her bro, Harry, she's got a sweet funky hair color! Anyways, in some ways her character makes me happy- it's good to see a strong , black female who's actually reverred and respected in the story. What I don't like, however, is the message her character sends about black females being perceived as beautiful and objects of male affection- esp. when they have natural hair styles.
Throughout the game, these are the women that the womanizing Harry and all the other gentlemen of the game are gawking over are the white, flowy-haired women, wearing more effeminate clothing. It's almost as if to say that black women , with their natural hair texture, cannot possibly be seen as effeminate and desirable to men. I find it interesting that virtually every other female in this game wins the affection of a guy except Mira. And before someone would like to wrestle me concerning the colonialistic gaze on black natural hair and beauty, perhaps I should remind you (or bring to your attention) Meteorologist Rhonda Lee :
If you'd like to check out some of the game's lunacy for yourself, with good commentary, I recommend you follow the youtube user who actually inspired me to do this post, Black Preon:
Until next time!