This past summer, Political Jesus got SOAKED with a wave of posts ( so many puns!) relating Aquman New 52 and environmental justice! I mainly did topics relating to black American slave perceptions of nature and the physical environment and its suprising, if even a bit elusive, connection to Arthur Curry's (Aquaman!) own experience as the King of Atlantis.
After having gone through the first 3 volumes (Vol. #0,#1, and #2) I would like to say that all-in-all, I ADORED the comics. I am very much happy with this attempt at blowing new life into a superhero that rarely gets taken seriously to begin with! From the updated cosmetic art-style to the deep , profound story-line and development of Aquaman's back-story, I became enamored from the first pages of Vol #0!
 Vol # 0: As mentioned, Aquaman was given an edgy storyline with depth. We're introduced to the fact that the often-mocked superhero, harbors a deep sadness for his father as he's looking through the pages old photo albums with his red-headed aqua-vixen girlfriend, Mera. It is revealed that his father, who was once keeper of the lighthouse , was swept away by creatures , never to return again. What's more? Arthur is supposed to inherit the thrown of Atlantis- the epicenter, the political capital of this strange, cold, dark, underworld! While I may have used this fact as an axiom for how black American slaves felt in during slave-holding America, these plot details , even this early in the series, provide a fascinating juxtaposition of a king who has come to reign over a region ( the oceanic depths) that doesn't receive him. His rejection by the citizens of Atlantis and the ocean at large (the aquatic creatures) is evident through Curry's father's death at the hands of the ocean and one of the opening scenes where our hero is swimming through the ocean and narrowly misses an angry shark swipe, hungry for blood! Excellent, excellent plot set-up in Vol. #0!
Vol. # 1: More lovey-dovey between Aquman and his femme fatale – but one thing I can say ( and perhaps I'm speaking too soon…) is that there is no excrutiating display of affection between the two. I'm not one for sappy love stories so if that's youas well then Vo. #1 shouldn't make you wanna vomit or anything. Without giving away too much of the developing plot, the most memorable scene in Vol. #1 was Aquman at a seafood restaurant!  A wiseguy cracks a joke about Aquaman ordering fish, although he "talks" to fish… there are also a few stabs at his relative mediocrity to other D.C. universe heroes (#hatersgonnahate!)…  being a sucker for breaking the fourth wall, I found this amusing! Vol. #1's pace was a bit slower than  #0  yet still ended on a cliff-hanger, not forgetting the main plot!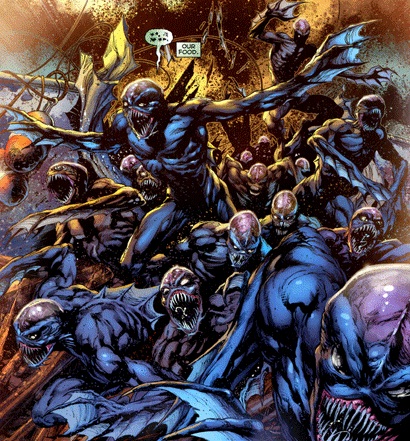 Vol. #2: Definitely the most high-throttle point in the plot of the three I've read!  Vol. #1 was definitely the calm before the storm! The foreshadowed , anthropogenic gremlins of the deep "rise to the surface" of the plot! (ha!) Excellent action shots featuring the combative prowess of Mera and Aquaman as they try and fend of the creatures of the trench that were proving too powerful for law enforcement. Little does Curry know…these creatures are coming for their king… Staying true to the first two issues, Vol. #2 also ends on quite the cliff hanger!
So far, I would give Aquaman New 52 a stunning 4.5/5 stars!!  It features moments of exhilirating action, a captivating storyline rendering Aquaman respect in the D.C. universe and fascinating implications for the environment, politics, and even religion. Perhaps I'll read the next 3 and do yet another review!
Also, if we learned anything this Summer from this update for Aquaman….